Hi all, @akanter / @burke / @ibacher / @jdick / @jteich / @mseaton,
We have been working for a while on a user-centric dashboard that summarises targeted "things to do" for the current user. Those "todos" can be anything really, from appointments notifications to acknowledge, to encounter data to double check, to orders to make… etc etc. Based on who you are this new dashboard brings up actions assigned to you that you should pay attention to.
We (credits to @premnisha and her team) introduced new data model that I share here, I have highlighted the core of it: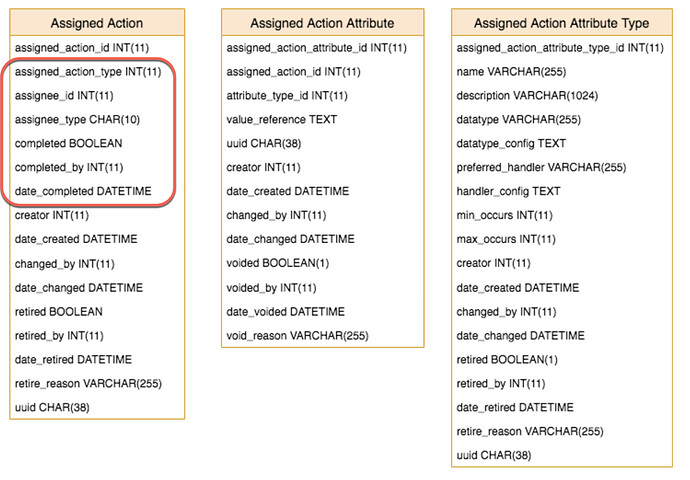 In short an assigned action:
Is mostly defined by its attributes. It is the type of action that drives which attributes to look at and to consume.
Points to an assignee. While the assignee could in theory be anything, it's in fact meant to be a User, a Privilege or a Role.
Is (eventually) completed by a User.
Now, looking at the FHIR spec, I see the Task resource that looks like being a match. @ibacher question for you, should we adapt our current data model to be a closer subset of the FHIR specification for 'Task'? … or it doesn't matter, it's anyway all about the FHIR/FHIR2 modules to eventually map assigned actions to FHIR tasks anyway? I guess the former

but obviously this will bring further overhead.
Anyway, I'd be grateful to get some feedback on this fundamental building block that we have used for populating data to new user-centric dashboards (that we will be happy to share in due time.)
Where can we move this when we have received sufficient feedback? EMR API, our "incubator"? Directly into Core?
Cc: @premnisha, @rrameshbtech, @sukreet, @wyclif