Hi @Andela teams,
I just noticed that all of the Sprint wiki pages are being created as top-level pages in the Documentation wiki space.
E.g. the space that starts nicely-organized with this: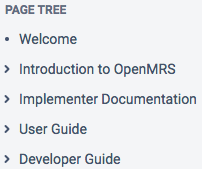 ends with this:
Please move all of these pages so they are not at the top level.
I would suggest creating a separate wiki page for each project under the Active Projects wiki page (it can be a placeholder for now, with a one-line description), and moving each of the sprint pages under their relevant project.
Also, is there some documentation that is leading to creating the pages in this particular location, please point it out and let's see if we can clean up the documentation for this.
Thanks!