Nevermind… it's just DevTools that tries to load the non-existing map. It should not affect the app… Let's dig further…
i need to make clinical visit test working and i would wish to try it out on my local running o3 instance using docker.
at the same time, i would wish to do some performance testing on patient-chart in the current docker instance
It's build from this source as part of this job. "Nightly" is currently a misnomer, as it's only run on commits to the source.
Locally, you can build the Docker images and change the versions in this file to whatever you want.
It's absolutely patient-chart that's failing. Everything on the patient chart is rendered in this React "page". When we look at the screen, e.g., as shown below: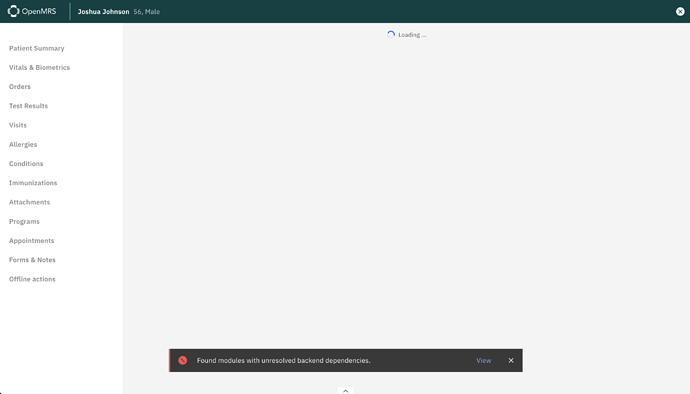 You'll see the SideMenu component is loaded (the left menu), but that the spinner is where the PatientChart component should be. Everything in the center of the patient chart screen is rendered into one of 3 extension slots. But, those extension slots are not rendered and, if you look in the main content (CSS selector #single-spa-application:@openmrs/esm-patient-chart-app-page-0 > div > main, you'll see the only thing there is the loader.
hello @dkigen. I failed to solve this issue
I was able to see all this and it is the loader rendered and the state of isLoading doesn't change.
Alright, progress! Basically building the images with the updated version of the frontend seems to work.
Patient chart is working now in docker. cc @jayasanka @jnsereko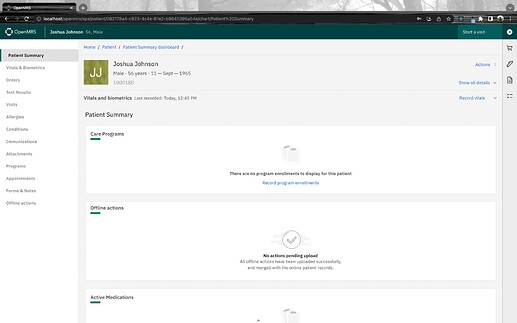 Thanks, @ibacher Now we can see test workflows are passing in GitHub actions. (But some test are failing)
hey @ibacher @dkayiwa @raff @pasindur2 Basing on the latest pull, docker instance for 03 ain't working. I get a blank screen. Its like the getway and the backend images don't start successfully. 502 bad getway - Pastebin.com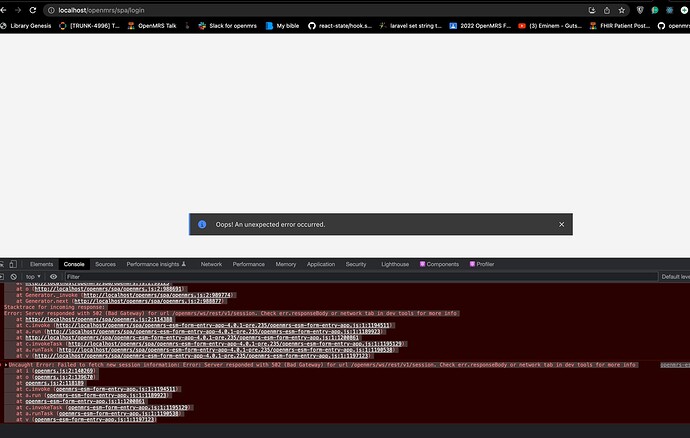 At the same time, i think the functionality of registering a patient Might be broken. However i am not so sure because i cant even login to check if its working well.
What's the output from docker-compose ps and docker-compose logs backend?
docker-compose -f docker/docker-compose-refqa-3x.yml ps  
NAME                COMMAND                  SERVICE             STATUS                PORTS
docker-backend-1    "dumb-init /usr/loca…"   backend             running (unhealthy)   0.0.0.0:8080->8080/tcp
docker-db-1         "docker-entrypoint.s…"   db                  exited (1)            
docker-frontend-1   "/docker-entrypoint.…"   frontend            running (healthy)     80/tcp
docker-gateway-1    "/docker-entrypoint.…"   gateway             running               0.0.0.0:80->80/tcp

Could you try running docker-compose down -v and then restarting the docker-compose process?
i am still seeing a blank screen at http://localhost/openmrs/spa/login
However, the backend at http://localhost:8080/openmrs/index.htm is working fine (i was able to login)
Well, that's some kind of progress maybe… Are you still seeing 502 errors in the JS console on your browser?