Is this worth noting in the Troubleshooting Wiki page?
All our new findings are to be documented for the purpose of helping another person with the same issue.
I added it to the Wiki under "Install MySQL". Thanks!
That is good

Hello. I've been facing the same problem for days now. I have no clue what's wrong. Any help please?
Kindly share your error log for easy identification of the problem.
First of all, I didn't know what's the difference between "simple" and "advanced" mode of installation. I will use OpenMRS as a developper. Which mode is best? Second, when choosing advanced, I don't know what I should write in the fields "database connection" and "database driver". From where can I get these information?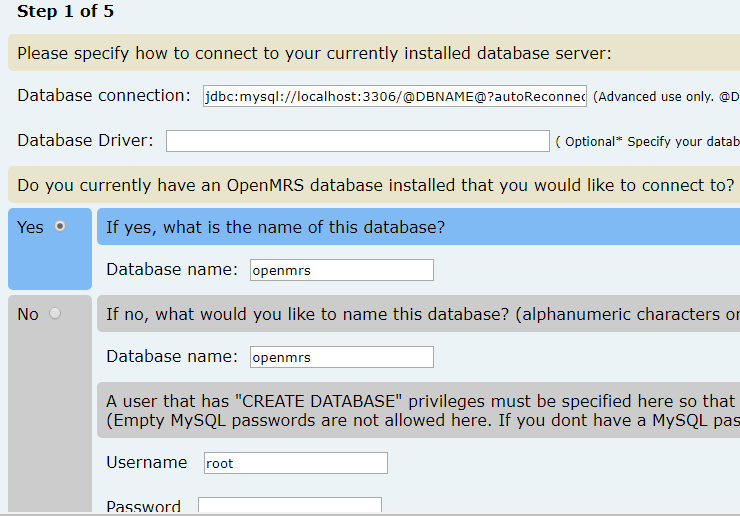 Third, I'm trying to use a demo data (that I got from openmrs website). I do not only need the database structure but I would also want to have some ready data about patients and their information. Is that given in the demo data? (because I still didn't get access to openmrs, still in the installation mode) Sorry for the long questions, thank you in advance!
@amenikh could you just let us know the steps you are following right from the start. Also try to go with the simple installation and let us know what you get.
Feel free to ask as many questions as you can. I wish to know if you are running a standard or openmrs SDK whose steps are this link
My OS is windows 8. I installed bitnami tomcat and added the raw entreprise edition of openmrs. I created the database in mysql and named it openmrs. I chose the "advanced" mode. I followed the steps of @scribe63 on Demo Data - Resources - OpenMRS Wiki. It was successful, I got this as a result:

I don't know now what to do. I checked this page
User Interface Modules - Documentation - OpenMRS Wiki
but there are multiple options and I'm a bit lost.
Basing on what am seeing, the UI module is missing and you need to install it for you to be able to interact with the system.
@amenikh try to check if you have the legacy UI is running and if not please set it up to run with your openmrs instance
sorry about that but i have just downloaded it from the link that u have sent
click on download the latest version 1.5.0
Yes that's what I did. I downloaded it from another computer and jut got it. I put the omod file under AppData\Roaming\OpenMRS\modules as it's stated in the link. I reloaded openmrs from bitnami manager. When I access openmrs, I still get the same result as in the picture above: no user interface module

@amenikh what tomcat version are you running?
Did you change the database name?
the database name is openmrs