Not being specifically in this field (not having a computer science background) I am trying to workout web application architectures. I'm doing my uni assignment on open MRS - I have a bit of an understanding but I do not have a structure where I can put these keywords in in order to draw a fitting multi layer architecture (nor do I understand all keywords). this diagram is sort of how it works in my head …. Im not sure it is right though?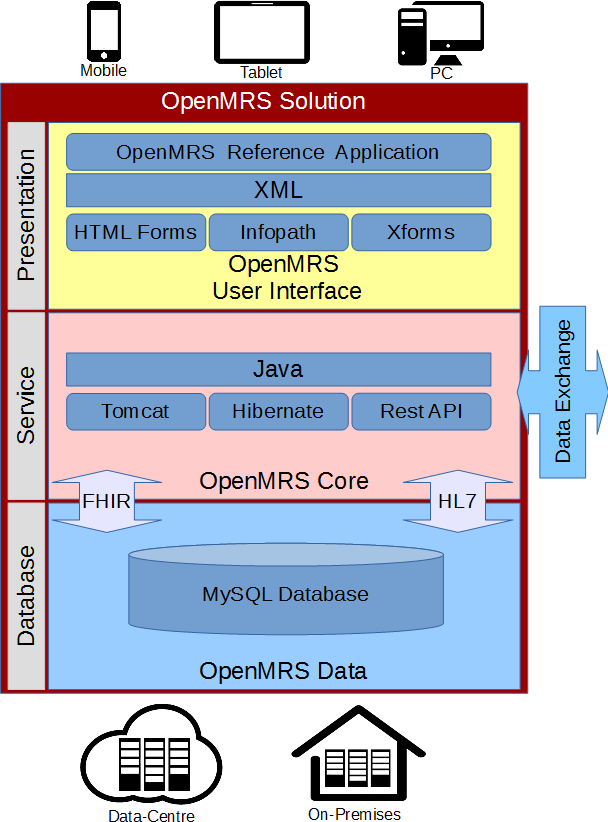 The question is - What web application architecture does openmrs subscribe to (using the MSDN examples? • Mobile application • Rich client application • Rich Internet application (RIA) • Service application • Web application
Or does it look a little bit more like this diagram also borrowed from Microsoft.
If so then what makes up the following components of this diagram?
Presentation Layer - I gather that would be HTML 5 Rich UI Engine - ?no idea? Business Processing Components with This Be the X Forms Module? Isolated Storage - ?no idea?
Service Interfaces - ?no idea? Message Types - HL7/FHIR Application Facade - with this be tomcat Business Workflow - ?no idea? Business Components - ?no idea? Business Entities - ?no idea? Data Access Components - with this be hibernate Data Helpers Utilities - ?no idea? Service Agents - ?no idea?
Data Sources - MySQL
Any help you could give me would be great