We had a good design call discussion today (including myself, @jteich, @mogoodrich, @wyclif), discussing how we could incorporate Encounter Diagnoses into core.
We considered both the EMRAPI module and FHIR resources and came up with this plan:
1. Support for encounter diagnoses in core:
Migrate CodedOrFreeTextAnswer to Condition (will be used for condition lists and anywhere else we need conditions aka diagnosis/problem/health concern)
Migrate Diagnosis to EncounterDiagnosis, which extends Condition to add ordinality (PRIMARY vs. SECONDARY)
Add methods to get primary and secondary diagnoses to Encounter
2. Backwards compatibility
Refactor the EMRAPI module's diagnoses as a façade using the new encounter diagnoses in core.
3. Going forward
Create a ticket to migrate data into core's new encounter_diagnosis table
Update UIs to use new features from core
Here's a side-by-side comparison: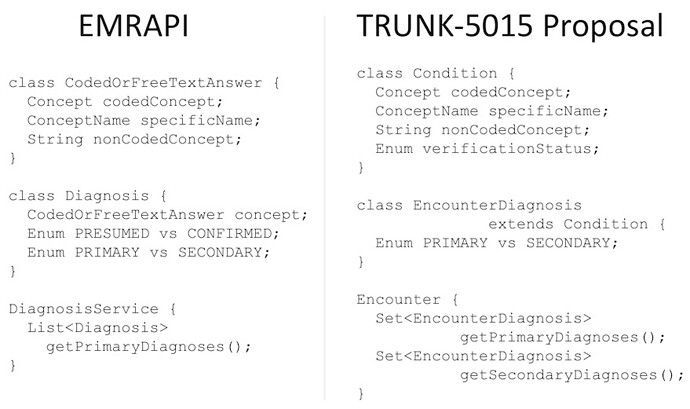 Notes
Condition aligns us with FHIR's Condition resource
CodedOrFreeTextAnswer is a generic solution to supporting coded or free text that adds another layer of abstraction in the API. We prefer to incorporate this functionality into Condition
Both @jteich and I preferred EncounterDiagnosis to simply Diagnosis (ambiguous) or Indication (FHIR's term)
Some renaming:

Order is replaced with Ordinality for PRIMARY vs SECONDARY
Certainty becomes VerificationStatus supporting PROVISIONAL (previously PRESUMED) and CONFIRMED to align with FHIR

We eliminate the need for DiagnosisService once EncounterDiagnosis is a property of Encounter
Design call notes here
I've adjusted TRUNK-5015 accordingly.