Hello Team, I am working on RATEST-298 E2E Test: Appointment management workflow. It is combining multiple legacy tests for the appointment management. However, I have encountered a blocker which I have been trying to find a work around in vain. I would like to see the Full time blocks but the search always returns No available time slots just like in the screenshot below. Please guide me on this so that I can get unblocked. Thank you very much.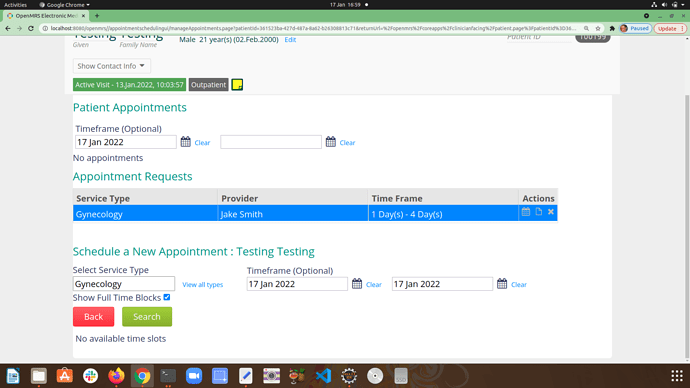 To reproduce what is on the image, after placing an appointment request on for the patient click Appointment scheduling app from the home page click on Manage Appointments app from the appointment scheduling page search for the patient with the appointment request click on the patient then you are on the Manage Appointments page in the image click on the appointment request and then click on the book appointment icon.
I would expect to get the time blocks for the appointment but all the time, I see No available time slots
cc @kdaud , @sharif , @dkayiwa @ibacher and whoever is able to help me.