Which governments have adopted OpenMRS nationally?
Ellen Ball Partners In Health
Lots of great information from @wanyee @janflowers @ssmusoke @beth. There are more out there including the Philippines (CHITS) and Haiti (iSantéPlus). Thanks to @beth for asking the smart questions and the cool graphics.
Kenya (KenyaEMR)
350 public health facilities (February 2018)
Supports HIV, TB, Maternal/Child (MCH), and plans for Outpatient Department (OPD).
Mozambique (eSaude)
650 health facilities (February 2018)
Supports HIV and launching point-of-care at 100 high-volume clinics
Tanzania (eFMS)
OpenMRS/Bahmni
electronic Facility Management System (eFMS)
@wanyee - Can you provide more detail and numbers?
Uganda (UgandaEMR)
Started by MoH in July 2016
680 public health facilities (December 2017)
Supports HIV Testing Services (HTS), HIV Treatment, HIV Exposed Infants, Safe Male Circumcision, MCH - Antenatal, Maternity, Postnatal, Outpatient, TB Treatment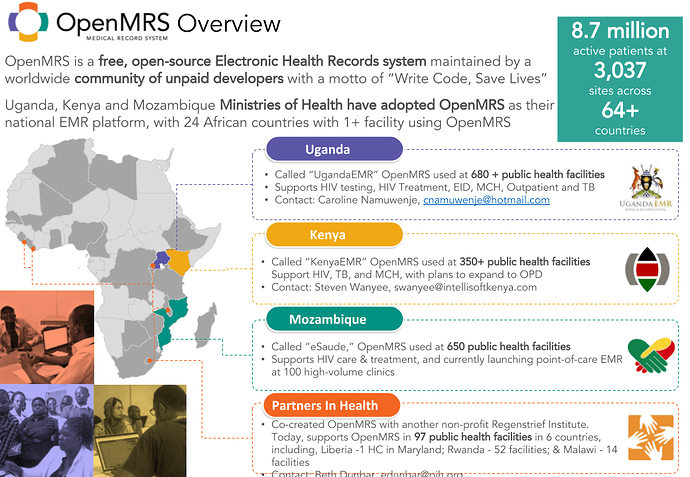 Anything to add @amarcelo ? Others?
Were these private responses?

Link to CHITS video here…