Application Name: Bahmni Version Number: Replace this text with the version number of the above application your question is about.
Question: Error During installation.
I am using docker and docker-compose to run my Bahmni project, I used the getting target guild from the official website, and after following the steps I get issues while running the Standard and lite version of the project.
Steps to reproduce
CD into bahmni-standard directory
run ./run-bahmni.sh.
Select option 1 for start (this command pulls all the necessary images and starts all containers as configured in the docker-compose file
I can do the same by running the command
docker compose up --env-file .env

Results:
Not all the containers start.
The following containers keep on restarting
bahmni-standard-reportsdb-1
bahmni-standard-openmrsdb-1
bahmni-standard-reports-1
The errors from the containers is similar
2023-10-10 13:04:44+00:00 [Note] [Entrypoint]: Entrypoint script for MySQL Server 5.6.51-1debian9 started.
2023-10-10 13:04:45+00:00 [Note] [Entrypoint]: Switching to dedicated user 'mysql'
2023-10-10 13:05:45+00:00 [Note] [Entrypoint]: Entrypoint script for MySQL Server 5.6.51-1debian9 started.
2023-10-10 13:05:45+00:00 [Note] [Entrypoint]: Switching to dedicated user 'mysql'
2023-10-10 13:06:46+00:00 [Note] [Entrypoint]: Entrypoint script for MySQL Server 5.6.51-1debian9 started.
2023-10-10 13:06:46+00:00 [Note] [Entrypoint]: Switching to dedicated user 'mysql'
2023-10-10 13:07:47+00:00 [Note] [Entrypoint]: Entrypoint script for MySQL Server 5.6.51-1debian9 started.
2023-10-10 13:07:47+00:00 [Note] [Entrypoint]: Switching to dedicated user 'mysql'
2023-10-10 13:08:48+00:00 [Note] [Entrypoint]: Entrypoint script for MySQL Server 5.6.51-1debian9 started.
2023-10-10 13:08:48+00:00 [Note] [Entrypoint]: Switching to dedicated user 'mysql'
2023-10-10 13:09:49+00:00 [Note] [Entrypoint]: Entrypoint script for MySQL Server 5.6.51-1debian9 started.
2023-10-10 13:09:49+00:00 [Note] [Entrypoint]: Switching to dedicated user 'mysql'
2023-10-10 13:10:50+00:00 [Note] [Entrypoint]: Entrypoint script for MySQL Server 5.6.51-1debian9 started.
2023-10-10 13:10:50+00:00 [Note] [Entrypoint]: Switching to dedicated user 'mysql'
2023-10-10 13:11:51+00:00 [Note] [Entrypoint]: Entrypoint script for MySQL Server 5.6.51-1debian9 started.
2023-10-10 13:11:51+00:00 [Note] [Entrypoint]: Switching to dedicated user 'mysql'
2023-10-10 13:12:52+00:00 [Note] [Entrypoint]: Entrypoint script for MySQL Server 5.6.51-1debian9 started.
2023-10-10 13:12:52+00:00 [Note] [Entrypoint]: Switching to dedicated user 'mysql'
2023-10-10 13:13:53+00:00 [Note] [Entrypoint]: Entrypoint script for MySQL Server 5.6.51-1debian9 started.
2023-10-10 13:13:53+00:00 [Note] [Entrypoint]: Switching to dedicated user 'mysql'

Here is a screenshot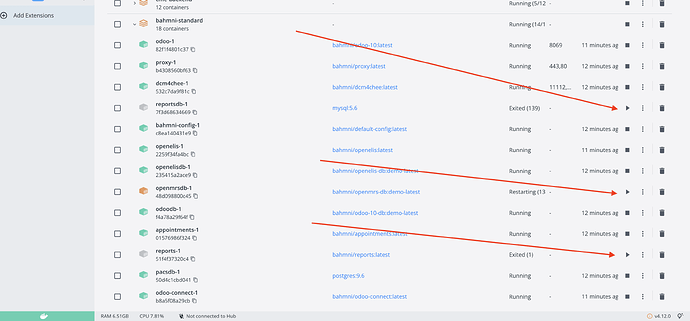 Extra this is the output from running docker version for my docker version
Client:
 Cloud integration: v1.0.29
 Version:           20.10.17
 API version:       1.41
 Go version:        go1.17.11
 Git commit:        100c701
 Built:             Mon Jun  6 23:04:45 2022
 OS/Arch:           darwin/amd64
 Context:           default
 Experimental:      true

Server: Docker Desktop 4.12.0 (85629)
 Engine:
  Version:          20.10.17
  API version:      1.41 (minimum version 1.12)
  Go version:       go1.17.11
  Git commit:       a89b842
  Built:            Mon Jun  6 23:01:23 2022
  OS/Arch:          linux/amd64
  Experimental:     false
 containerd:
  Version:          1.6.8
  GitCommit:        9cd3357b7fd7218e4aec3eae239db1f68a5a6ec6
 runc:
  Version:          1.1.4
  GitCommit:        v1.1.4-0-g5fd4c4d
 docker-init:
  Version:          0.19.0
  GitCommit:        de40ad0